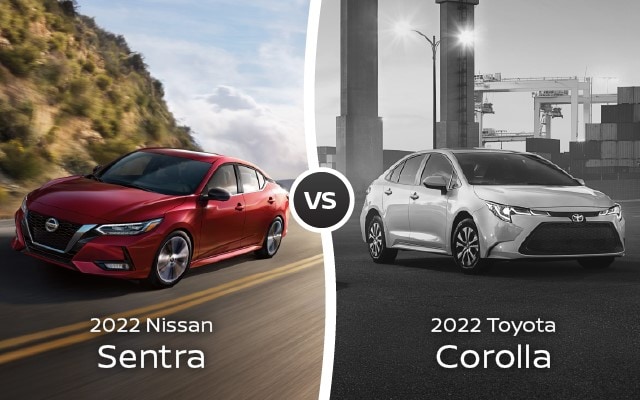 For 2022, Nissan came to play, and this is perhaps no more evident than with the new Sentra.
In this year's list of the best compact cars for sale, Consumer Reports gave the plucky Sentra some high praise, writing, "This is the best Sentra we've ever tested, with its comfortable ride, nimble handling, great fuel economy, roomy cabin, and intuitive controls."
The award-winning automaker has spent years perfecting the art of making high-value vehicles that don't break the bank, For this reason and others, the 2022 Sentra passed the 2022 Corolla on CR's list of best small cars, putting to rest the "Nissan Sentra or Toyota Corolla" debate. Let's break down all the elements that earned Sentra a place among the best subcompact cars.
Why the Nissan Sentra Beats the Toyota Corolla
Incredible Value
The Sentra's always been on the list of most affordable small cars, and that's still true of this year.
The MSRP for a base-level Sentra S is listed as $19,810—well below most others in its class. Critics have noted that the interior is plenty roomy, and the seats are supremely comfortable and road-ready in both the front and rear. Many have also been impressed by the stylish exterior and quality materials used in the steering wheel, headliner, infotainment, and console.
With its lower price tag and 4 straightforward trim levels, Nissan's streamlined the buying process, making it easy for consumers to know exactly what they're getting without having to chop through a jungle of brochures. Even the highest-level trim, the slick SR Midnight Edition, starts out with a modest MSRP of $23,095. Compare this to the XSE Apex Edition Corolla, which has a starting price of $28,710 for a list of largely comparable features.
The incredible value of this car is a big part of why it's a favorite sedan of young buyers and first-time drivers, as well as families.

Winner: Nissan Sentra
Superior Safety Features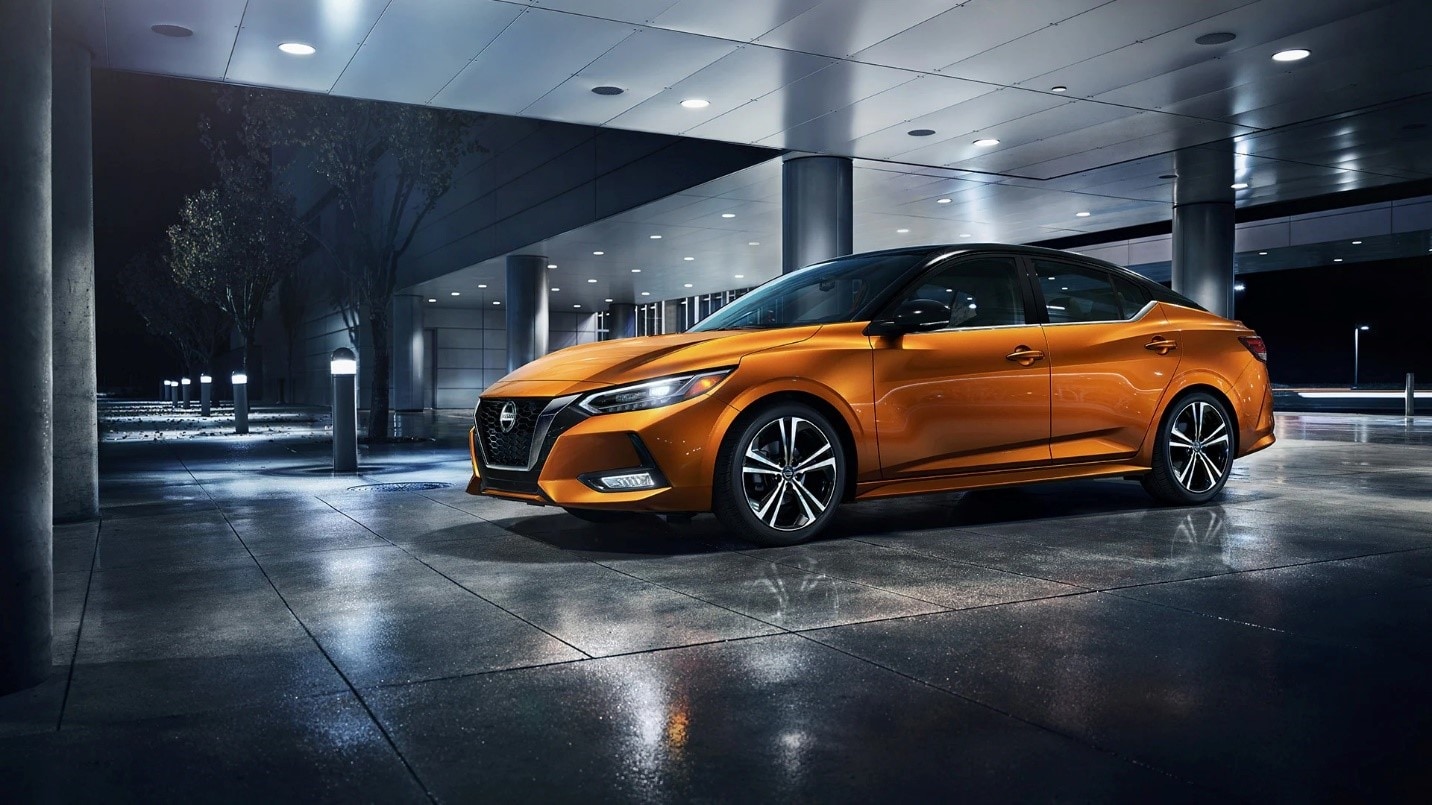 It's no big secret that Toyota sets a high-water mark in the automotive world—they're generally lauded for their safety and dependability. This is one reason why the Sentra's victory is so impressive.
Everyone these days seems to have a signature blend of safety tech, and Toyota is no different, with tons of impressive features through their Safety Sense package. However, certain key features, like blind spot monitoring and rear cross traffic alerts, are only available as optional add-ons in the Corolla, meaning an ever-mounting price tag, assuming you can find a model with these features at all.
Nissan takes it several steps further with SAFETY SHIELD® 360, a host of features that come standard on all models of Sentra, regardless of trim. Standard features include:
Blind Spot Warning
Lane Departure Warning
High Beam Assist
Rear Automatic Braking
Rear Cross Traffic Alert
Automatic E-Braking with Pedestrian Detection
Intelligent Driver Alertness
Upgraded trims also have:
Intelligent Cruise Control (SV and SR)
Intelligent Around View Monitor (SR)
The arms race to see who can create the safest small car continues on, but while both cars have similar five-star ratings on the
NHTSA
, the Sentra edges ahead of the competition by pulling out all the stops with their package of driver-assist technology.
Winner: Nissan Sentra
More Interior Space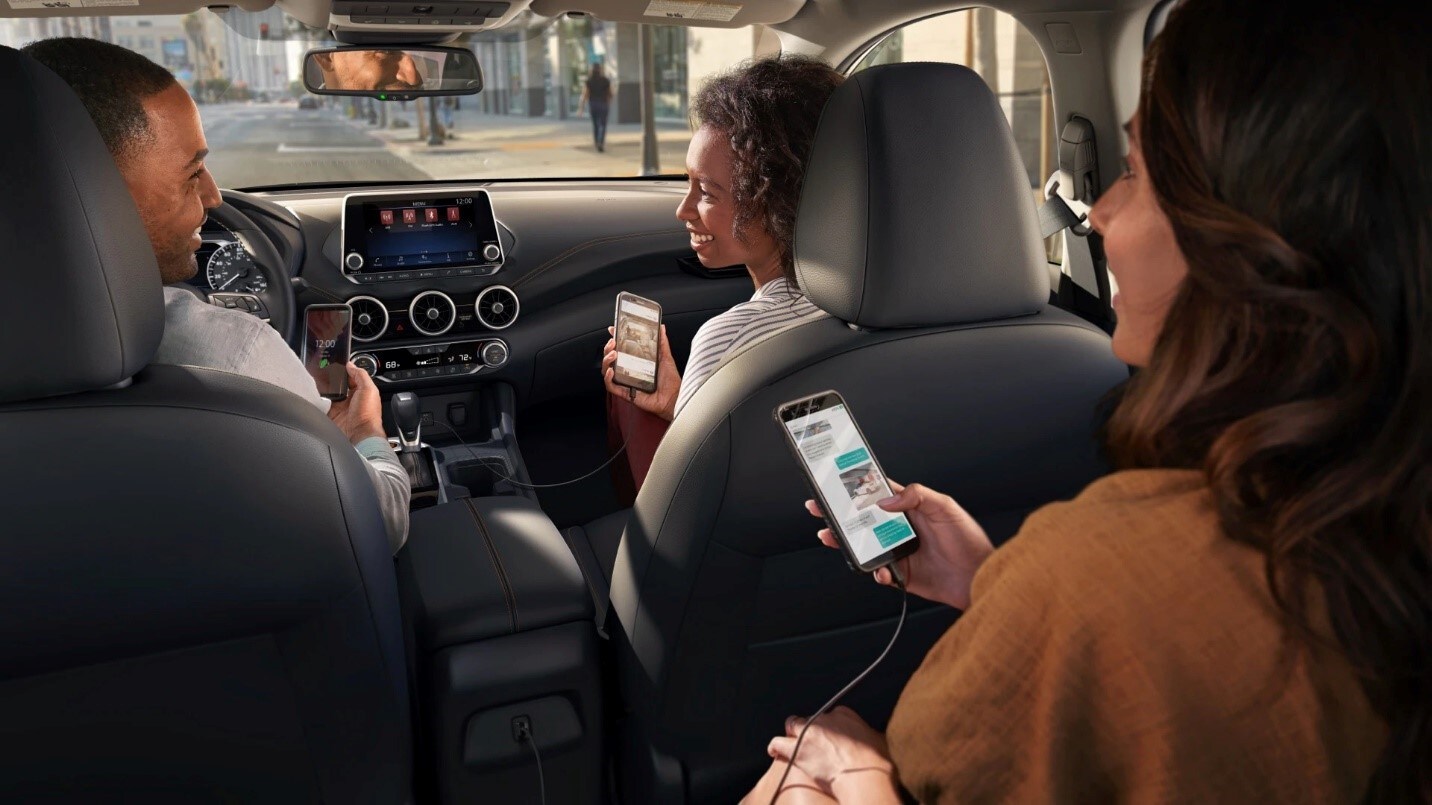 When you're looking for the best small sedan, one huge consideration is how much room it has inside for both passengers and cargo—especially if you have a family. Making the interior of smaller cars feel roomy is a science that Nissan has excelled at with the newest Sentra.
Here, we have the interior dimensions of both the 2022 Nissan Sentra and the Corolla, across all trims:
| | | |
| --- | --- | --- |
| Measurements | 2022 Sentra | 2022 Corolla |
| | | |
| Headroom (Front/Rear) | 38.9/36.7 inches | 38.3/37.1 inches |
| Shoulder Room (Front/Rear) | 56.4/54.5 inches | 54.0/51.7 inches |
| Hiproom (Front/Rear) | 53.5/53.3 inches | 53.9/51.3 inches |
| Legroom (Front/Rear) | 44.0/34.7 inches | 42.0/34.8 inches |
| Passenger Volume | 96.0 cubic feet | 88.6 cubic feet |
| Cargo Space | 14.3 cubic feet | 13.1 cubic feet |
Is Nissan Sentra a good car? Looking at these specs, it's plain to see that the Sentra is roomier than the Corolla in almost every way.
These numbers may seem somewhat trivial—after all, what does a couple of inches matter? Well, when you're talking about a compact sedan, turns out, they matter a whole heck of a lot. Notice how the measurements add up to the total passenger volume, which shakes out to over 7 extra cubic feet to work with in the Sentra. It's you're looking for a great sedan for young kids, or infants in car seats, imagine what you can do with all that space.
It's also worth noting that more space translates to better visibility, and one more reason why we consider the Sentra to be the safer sedan.
Winner: Nissan Sentra
Three Rounds, Toyota's Out!
The results are in for Sentra vs Corolla. Consumer Reports isn't the only publication that's heaped accolades on the Sentra this year. J.D. Power and Associates, one of the most trusted names in automotive authority, awarded it the title of #1 Compact Car in their review, beating out the Corolla, as well as industry stalwarts like the Honda Civic and Volkswagen Jetta. It's the final knockout blow.
Here at Jim Burke Nissan, we're proud to sell the best in the business, and the Sentra isn't the only vehicle we're excited about. We've got monthly new vehicle specials and Nissan incentives to help you save even more on a Sentra. If you're looking for a small sporty car near you, there's no time like the present to buy or lease a Nissan Sentra for sale in Birmingham. Give our Nissan dealership near Hoover a call at (205) 390-7564 to request a quote or test drive.