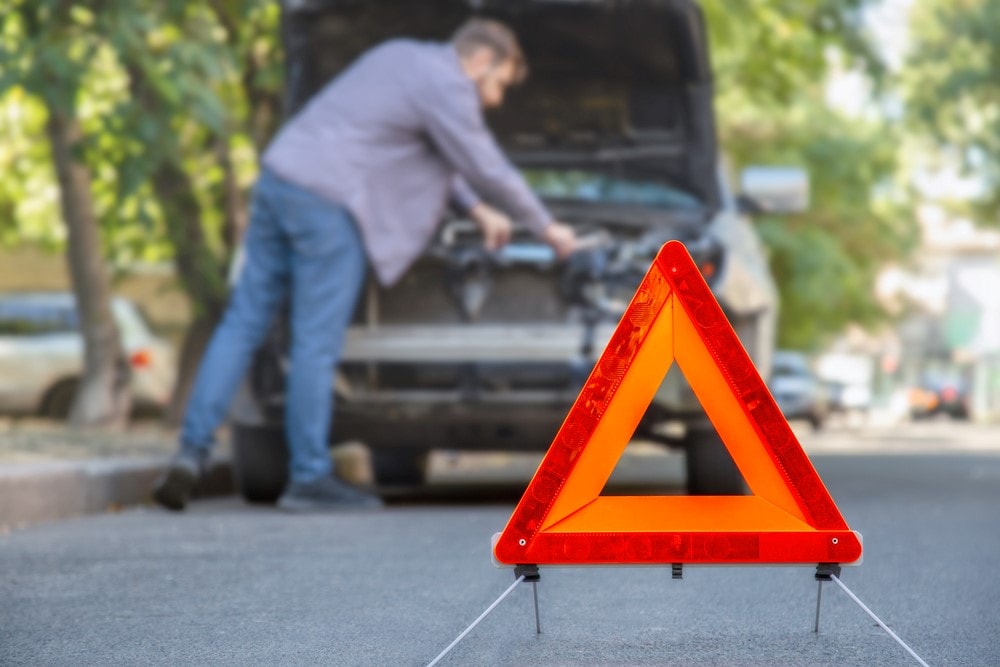 It's easy to think that driving during the winter is more dangerous than driving during the summer months, even in the South. (You've got unpredictable weather, flooding, possible icy roads, and other issues to contend with during the winter.) But you might be surprised to learn that summer presents its own set of unique problems. In fact, the Insurance Institute for Highway Safety (IIHS)
notes
that over 60% of annual car-crash fatalities occur between March and September.
So, we write this article in the hopes that you'll avoid the pitfalls of driving through Birmingham in the summer. Here are the top 10 driving hazards you'll (potentially) encounter on the road this season.
10 Most Common Driving Dangers to Avoid in the Summer
10. Watch out for teenage drivers
With school out for the summer, more teens are hitting the road. Their relative inexperience and sometimes questionable judgement behind the wheel is an accident waiting to happen, since teens are more likely to be involved in accidents than any other age group.
Take care in the morning and around school dismissals (check your local area's schools for these times), as this is when teenage drivers are more likely to be out.
9. Be careful of cyclists and motorcycles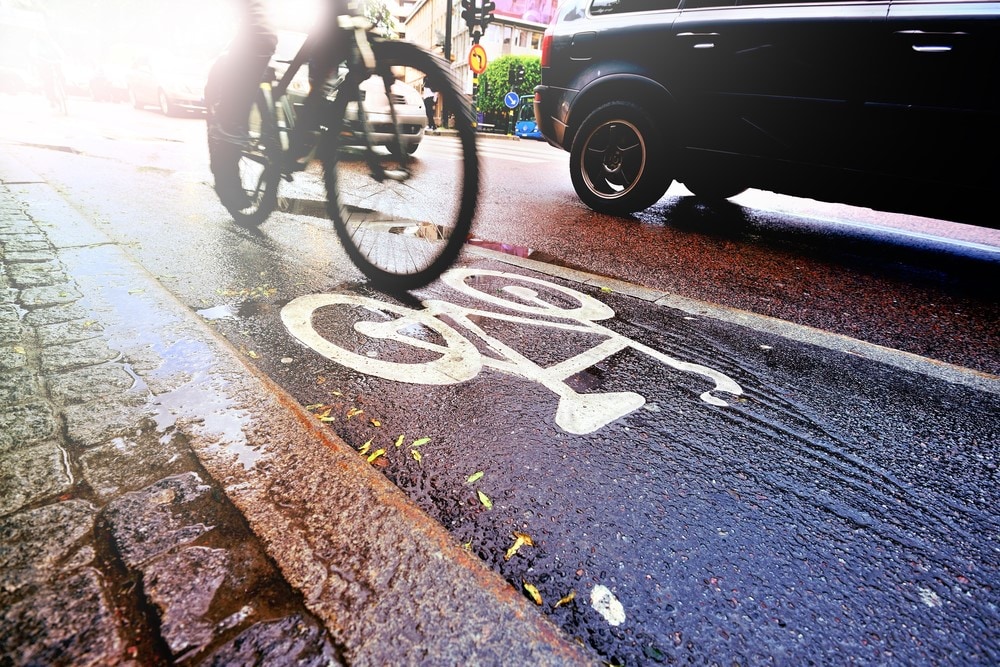 The summer months bring out bicyclists and motorcyclists in droves, all of whom are eager to enjoy the warmer weather. They present their own set of problems, as they're harder to see and can creep up on you when you least expect it. Be sure to give them plenty of extra space and be extra careful when turning or parking.
If you're driving on a road with a bike lane, be sure to stay
out of it
. Cyclists have that lane to remain safe from drivers, and if you can't give them the room to operate, then your tax dollars are being wasted.
8. Tire blowouts
Increased temperatures directly affect tire pressure. That's why it's very important to make sure your tires are properly inflated to the correct pressure. Also, be sure to visually inspect tires for any signs of wear, including cracks in the sidewall, tread depth, uneven wear, or bald spots.
When you bring your vehicle into an auto service center near you for routine maintenance, your service technicians will inspect your tires for tread depth and any other problems. If an issue is discovered, or if your tires have reached EOL (End of Life), you may want to check if your local tire shop has any good tire sales or tire discounts available. It's better to pay a few hundred now than a few thousand—or worse—later.
Need new tires in Birmingham? Get the right tires for your car, at the right price for your wallet, right here at Jim Burke Nissan. We can get you a deal on tires for all makes and models, including the all-new 2021 Nissan Armada.
7. Construction zones
Many municipalities do a lot of roadwork in the summer months. You should be especially cautious driving in construction areas which have statistically higher fatalities, according to the Centers for Disease Control.
For instance, as of March 2021, you want to drive more cautiously near these Birmingham areas:
Downtown - I-59 northbound and southbound off-ramps

Homewood - Lakeshore Drive and Interstate 65 construction

Citywalk BHAM

20th Street South
10th Avenue South
6. Tourists
The summer months are times to get away, and that means highways filled with vacationers who are unfamiliar with local roads. People are anxious to get to their destinations, causing erratic driving, while other drivers may drive too cautiously (i.e., molasses-slow), which can be just as hazardous.
If you notice a car slowing down far below the speed limit or switching their turn signals on and off, give them some space to work with. It'll save you from a potential accident and let them breathe a little.
5. Overheated engines
Increased temperatures outside means increased temperatures inside your hood. Before heading out this summer, check your engine coolant, hoses, and belts to make sure everything is in working order. It's also a good idea to have your air conditioning professionally checked as well. And be sure to carry enough water to stay hydrated on long summer trips.
Sound like it's time for your summer maintenance? Bring your car into the Jim Burke Nissan Service Department for a quick oil change in Birmingham, routine service, and a good look under the hood. Schedule your appointment now!
4. Speeding and drowsy drivers
Approximately one in six fatal crashes involves a drowsy driver. People wanting to get to their summer destination may push their driving endurance to the limit, with two out of five drivers reporting to have fallen asleep while driving on at least on occasion.
Speed, too, is a killer. In fact, speeding drivers contribute to more accidents and fatalities than practically anything else. And don't even get us started on texting while driving; if you're a texter behind the wheel, you're a fool.
3. Hitting an animal
Animal activity increases in the summer, and the likelihood of hitting an errant animal on the roadway also goes up each month through to December. Between 2019-2020, nearly 2 million insurance claims were made due to collisions with deer and other wildlife. And if you drive in the particularly rural areas of Alabama, you have a 1 in 116 chance of hitting a deer. Those odds aren't great.
To lower your risk, turn on your high beams and be extra vigilant for animals in the early morning and evening hours. Always be a defensive driver; scan the sides of the road, expect the worst and plan in advance.
Better yet, invest in an award-winning SUV that has driver-assist features that keep you from experiencing an IRL Tommy Boy scene. The new Nissan Rogue offers such features, including Automatic Emergency Braking with Pedestrian Detection, Intelligent Forward Collision Warning, and High Beam Assist.
2. Hydroplaning
Summer weather means summer showers. A very real threat is when your tires lose contact with the road in wet weather. If you experience a little hydroplaning when stopping at a stop sign, you should expect a lot of hydroplaning when you need to brake in an emergency.
Time for new tires—and make sure your wipers are working properly, as well.
1. More potholes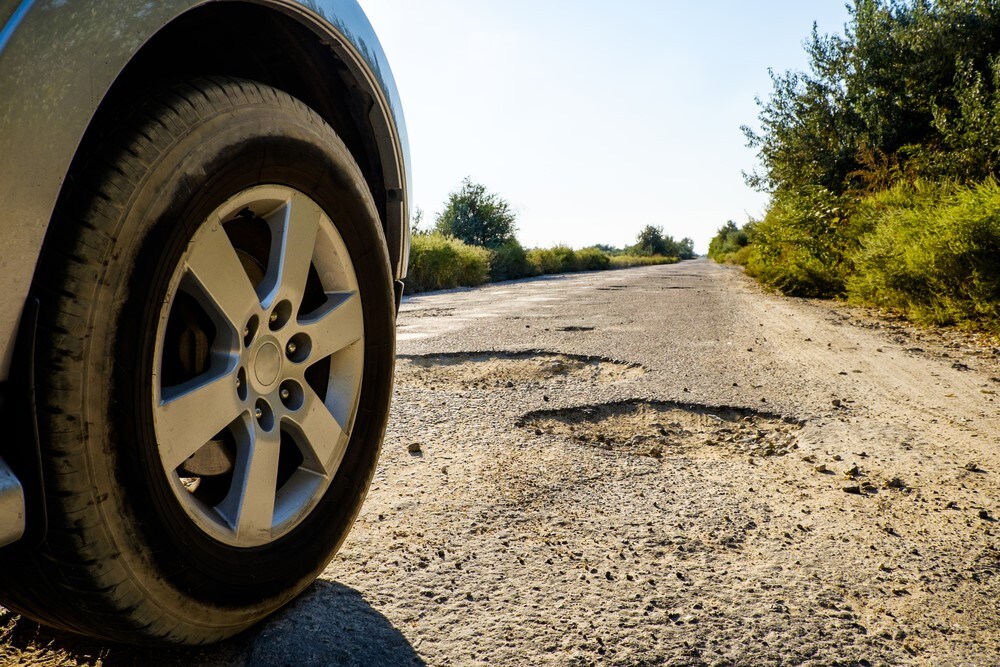 The changeover from winter to summer, along with increased traffic, stresses the asphalt resulting in a general increase of potholes that can cause blowouts, car damage, and accidents. Some potholes are unavoidable, of course, but just being more aware may help you miss them.
How can you avoid potholes? Give yourself some space between the car in front of you so you can spot them before it's too late. If you must hit a pothole, don't slow down—doing so can actually cause bent rims or suspension issues; instead, accelerate as you go over the pothole to ensure your tire continues spinning. And most of all, don't drive on cruddy roads.
If you need pothole or curb damage repair in Birmingham, we can help.
Call us
today at 205-324-3371 for an inspection.
Avoid High Summer Prices at Jim Burke Nissan
When the temperatures heat up, our prices cool down. That's right: Now through summer, you can get a spicy deal on a new Nissan or used car at our Birmingham car dealership. Come on down to speak with our auto financing experts and see how much you can save on a Nissan car or SUV this summer.
Jim Burke Nissan is located at 1300 3rd Ave N in Birmingham, AL, and we serve the communities of Hoover, Tuscaloosa and beyond.